Last updated on August 7th, 2022 at 01:48 pm
We may receive commissions for purchases made through links in this post.
Making the decision to separate or divorce from your spouse is challenging, emotionally difficult, and fills your mind with numerous seemingly impossible questions. One of which may be, 'is online divorce legit'?
Thanks to a boom in online divorce services, today there are several great, legitimate options available that enable couples to separate affordably and amicably, allowing their post-divorce finances and relationship to remain intact. Going through your divorce process online from the convenience and comfort of your home will save you money, time, and also your sanity.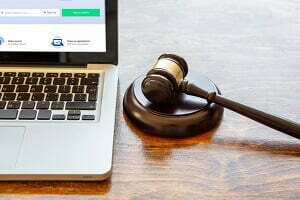 Is Online Divorce Legit, or Not?
Yes, online divorces are equally legitimate as an uncontested divorce using a lawyer – the paperwork and the process are virtually identical. Legitimate online divorce services work nearly the same way as online tax filing services. Just as a local divorce lawyer stays current with divorce laws in their state, online divorce services also stay current with the laws of each state. When you fill out the questions on the divorce website, the service will generate all of the necessary court-ready and state-specific divorce papers that you need to process your divorce. The only major difference is that the cost will be significantly less than using an attorney.
Are All Online Divorce Services Legitimate?
There are quite a few online divorce websites available today, which is a good thing as it gives you plenty of options when considering doing your divorce online. While we have not yet come across an online divorce service that was not legitimate, we can say that some are better than others. Each has its pros and cons.
Our top-recommended online divorce service is :
The best, most streamlined platform for a DIY online divorce.
If you have a simple, uncontested divorce, you must check out 3 Step Divorce. They make completing your divorce forms super easy and convenient. Answer the questions at your leisure and your finished documents will be instantaneously available. Save thousands with 3 Step Divorce Now >>
Be sure to read our full post for our best online divorce service reviews.
Is Online Divorce Legitimate For Contested Divorces?
Even though online divorces are legitimate, there are some things that you need to consider before starting an online divorce.
Legitimate online divorce services are only ideal for couples who are doing an uncontested divorce. With an uncontested divorce, both parties agree to end the marriage and also agree on key issues such as co-parenting, custody, and child support payments (if there are children), the division of community property, and alimony. If both parties do not agree on these key terms, then their scenario is considered a contested divorce and therefore they are not eligible for an online divorce. Contested divorces nearly always require the services of licensed attorneys, accountants, and other professionals.
Is Online Divorce Legal?
The concept of getting a divorce online is appealing to many couples since the process is easier, quicker, and cheaper than hiring an attorney. However, you may still be wondering, 'is online divorce legal'? For most jurisdictions, yes, online divorce is legal. However, there are still some states and counties that do not permit online divorces. You will need to check with your local laws and regulations before starting the process of online divorce.
How do you know your marriage is over?
Final Thoughts
If you have been wondering are online divorces legit, you can take assurance in the fact that tens of thousands of couples have successfully completed their divorce online. We highly recommend an online divorce for any couple seeking an uncontested divorce who is also looking for ease, convenience, and affordability.
Just make sure that you stick to the legitimate online divorce services that we have reviewed, such as 3 Step Divorce. Also, be certain to check your local laws and regulations regarding online divorce prior to getting started.